PT Ajinomoto Indonesia annually invites all of Indonesia's best students to continue their postgraduate studies in Japan through the Ajinomoto Masters Scholarship Program. Through the Ajinomoto Foundation, PT Ajinomoto Indonesia provides scholarships for postgraduate programs at 7 (seven) selected universities in Japan, one of which is The University of Tokyo, which is the number 1 best university in Japan and the best number 24 in the world.
After going through a long process from selecting document receipts to interviewing the PR and BOD teams of Ajinomoto Indonesia last May, a candidate from Malang, East Java, Mutiara Arsya Vidianinggar Wijanarko, was chosen as awardee. The following are the results of the PR team interview with the woman who is familiarly called Ara:
Hi Mutiara, congratulations on being selected as the winner of the 2023 Ajinomoto Scholarship Program to Japan! Could you please tell us shortly about you
Hello, let me introduce myself Mutiara Arsya Vidianinggar Wijanarko, or more often called Ara, I am a graduate of S1 Nutrition, Airlangga University. I am currently studying women's nutrition related to fat diet issues that I have been doing since 2020. I am currently taking a master's program (S2) from the Graduate School of Health Sciences, Kagawa Nutrition University, under the guidance of Prof. Masaharu Kagawa for supporting my dream of contributing to women's nutrition.
What major did Mutiara choose to continue her master's studies in Japan? And which university?
Kagawa Nutrition University, majoring in Health Science.
Of the 7 prestigious universities in Japan offered by PT Ajinomoto Indonesia, what are your reasons for choosing these universities and majors?
Kagawa nutrition university is a university with a nutrition specific course that has many fields of knowledge such as (Kin Anthropometry, Medicine Nutrition, Nutrition Education, Nutrition Ecology, Food And Nutrition, Community Health And Gerontology, Nutrition Health Management etc.), and Kagawa Nutrition University can provide me a place to develop according to my focus on studying nutrition education and kin anthropometry, which other universities rarely have.
What is the title of the research study that you prepared to take part in the Ajinomoto 2023 Scholarship selection?
The research I have prepared is a follow-up research that I have done since 2020, which is related to nutrition education for women, with the title "Skinny Fat: Metabolic Disease Without Metabolic Phenotype Related to Fat Diet and Body Dissatisfaction of Female"
What are your hopes from the research for the community?
I want to dedicate my research to increase women's awareness of nutritional fulfillment alongside the desire and focus of women on their body appearance, who tend to make mistakes in undergoing the process of diets (fad diets) and healthy lifestyles which in turn will lead to health problems including normal weight obesity, anorexia, even insufficient nutritional needs.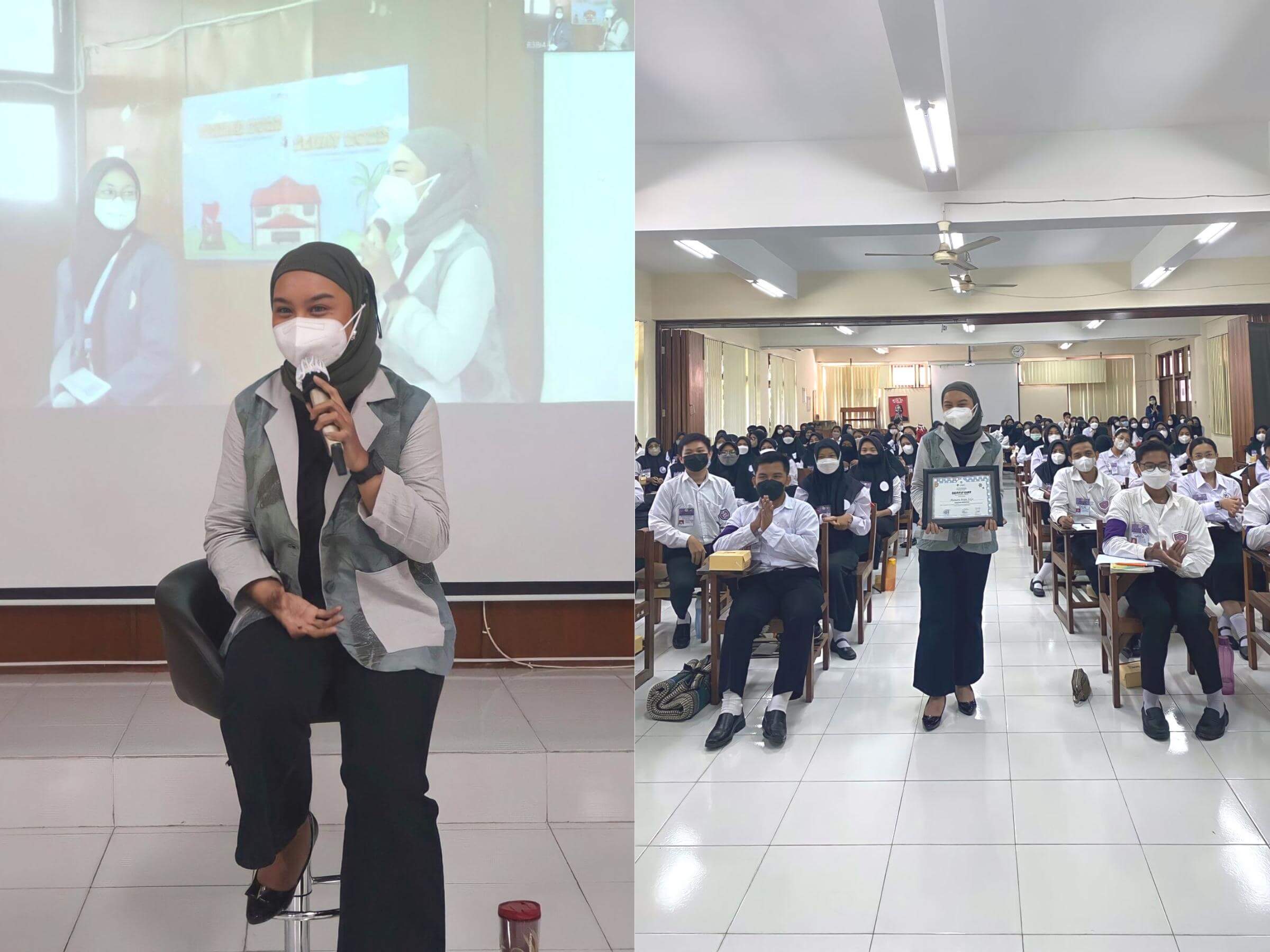 Tell us about your experience while participating in the Ajinomoto 2023 Scholarship selection? What is prepared?
One thing that I have prepared carefully is a research study topic, where the topic must be in accordance with the field of study that I will take and be associated with a new phenomenon that has not become a concern in the Asian region and has a big effect in the future. At first I didn't feel confident after receiving the information that there was only 1 awardee up for grabs, however, strong determination made me try my best in preparing competence and mentally in every selection process until the end.
For the scheduled departure to Japan next year, what are you currently preparing?
The preparation that I did apart from the departure document was the re-establishment of the concepts and research components that I would take with me on my master's trip, besides that I also prepared Japanese language which would make my life in Japan easier.
How did Mutiara feel about PT Ajinomoto Indonesia after being announced as the winner of the 2023 Ajinomoto Scholarship?
It really came by surprise! Competing for 1 place as an awardee is something that is extremely tight and I am very grateful. Going through a long and competitive selection process made me even more excited to go through the process of my master's degree journey.
And I am very grateful to PT. Ajinomoto Indonesia has given me the opportunity and support in the form of scholarships to study science and contribute to the world of women's nutrition. In addition to a very strict selection process, many lessons and experiences were taken in each selection process, one of which was during interviews with BOD and external experts where I got new insights regarding the topics that I planned to bring with me later.
What message would you like to convey to potential participants of the Ajinomoto Scholarship Program next year?
Prepare requirements documents carefully, and mentally prepare to keep fighting for your dreams. Keep your spirits up!
Good luck on the scholarship journey to Japan, Mutiara! Ganbatte kudasai!
Related Articles