Ajinomoto Shared Value
The concept of Ajinomoto Shared Value (ASV) comes from Creating Shared Value (CSV).
CSV or Creating Shared Value is a business concept introduced by Prof. Michael E. Porter (economist from Harvard University), which aims to improve the image of the company through the creation of shared value from the company's business (economic value) to resolve social issues.
CSV and ASV are the same two concepts, ASV is a shared value creation to the community using the Ajinomoto's Way principle. Ajinomoto Shared Value (ASV) uses the uniqueness and superiority of Ajinomoto Group to create shared value Economic value and social value through Ajinomoto's business development. ASV will continue to be carried out in line with the growth of Ajinomoto's business.
Create Economic Value
With our business activities we have created new values through solving problems faced by the community and have realized growth as a company by increasing economic value. We have adopted ASV as a term that describes the process, and ASV itself as core concept of the Ajinomoto Group that has existed since the company establish.
Social problems change constantly, and there more than one way to solve it. When ASV is practiced, it is important to identify on global issues and focus on the use of the company's unique strengths, technology and values. Ajinomoto Shared Value (ASV) represents our unchanging commitment to solving social problems in society while at the same time leading to economic value creation.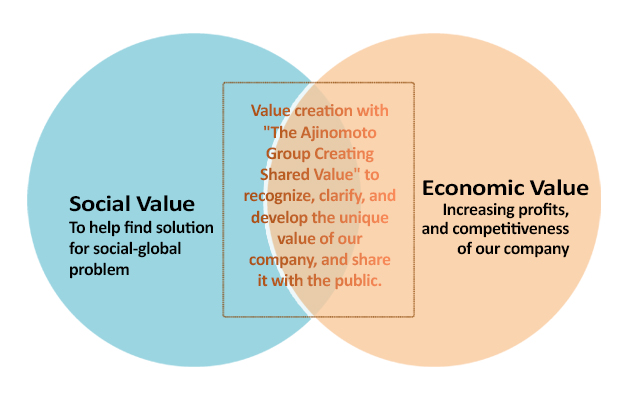 Nowadays there's 3 main global issue:
A. HEALTH AND WELL BEING
Nutritional imbalance due to changes in food in the environment
Build a healthier society by helping people through eat well, for example:
Use umami to help solving health problems
Develop human resources by improving better nutrition for children.
Usage of AminoScience for Health support, for example:
Prevent diseases related with lifestyle through products with amino acid
Cancer early detection based on amino acids science
B. FOOD RESOURCES
Decreasing of food sources, increases potency of food loss
Provide more value with fewer of resources, for example:
Reducing usage of food sources through efficient fermentation technology
Develop a side product business to improve agricultural yield & quality
Develop technology to create replacement materials for limited natural resources, for example:

Increase efficiency of animal feed using amino acids and reduce agricultural land use
Research for fermentation technology using inedible raw materials
C. GLOBAL SUSTAINABILITY
Global environmental damage.
Reducing the impact to the environment and efforts to conserve ecosystems, for example:
Reducing CO2 emissions per unit of production and reducing water per unit of production
Extend sustainable procurement systems throughout the supply chain.
PT Ajinomoto Indonesia runs 2 programs related to Ajinomoto Shared Value (ASV) on global social issues, Health & Well Being - Health & Well-being, which is:
1. School Lunch Program (SLP)
One of the Indonesia problems is children malnutrition. Based on Basic Health Research Data (Riskesdas) in 2010, 58.8% of school-age children only 70% had a nutritional adequacy rate. Riskesdas data in 2013, 26.4% of children aged 5-14 years had anemia (iron deficiency). Another study in 2009, 48.1% of Indonesian children received food less of nutrition. From these data, Ajinomoto carried the ASV concept to formulate the concept of the School Lunch Program (SLP) program.
Aims of SLP program is to foster changes in behavior of target students by increasing knowledge related to healthy lifestyles, hygiene and sanitation, good nutrition and food security. These objectives are described in 3 main activities, which is:
School Lunch Feeding,
Nutrition Balance Education
Healthy Living and Hygiene Education
This program has been running for 13 months (December 2017 - December 2018) and is being carried out at the Islamic Boarding School located in Bogor. It is a collaborative program of Ajinomoto Indonesia with the Department of Nutrition IPB led by Dr. Foresters.
For 13 months the program lasts, including the initial data collection, intermediate data, and final data program. Implementation of lunch (effective 10 months, 6 days per week, for a total of 230 days).
Target:
Darussalam Islamic Boarding School Students - Bogor, aged 13-18 years with poor BB condition, stunting, and HB ≤ 11 for women, and ≤ 12 for men.
Method:
The lunch menu that we provide is an improved menu from the existing Pompes menu.
The lunch menu we provide every day includes: carbohydrate sources, animal protein sources, vegetable protein and fiber sources from vegetables and fruits
The original menu of ponpes: carbohydrate and vegetable sources of animal protein sources are very limited.
The lunch provided is not only nutritionally balanced but also delicious because it uses Ajinomoto seasoning products so students can eat well. The result is an improvement in anemia status.
Result:
Changes in the level of knowledge, attitudes and practices related to balanced nutrition and a healthy, clean lifestyle.
Changes in nutrition intake increased protein and carbohydrate intake
Changes in anemia status increase in the number of children in the normal Hb category.
Example of Results of Improved Balanced Nutrition Practices:
Changes in anemia status

The final data shows the proportion of anemia and mild anemia is smaller than in the initial data.
Conclusion
SLP is an integrated program that combines lunching using Ajinomoto products and nutritional education for 10 months continuously which leads to improved knowledge, attitudes, practices related to balanced nutrition, healthy living, as well as improved nutrition intake and anemia status.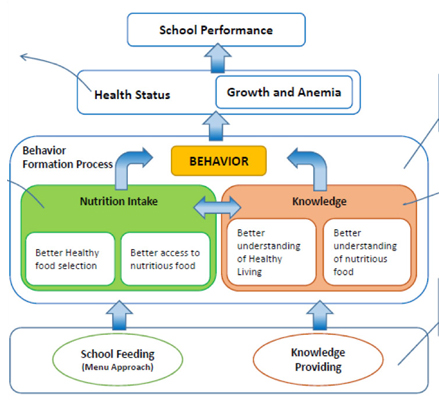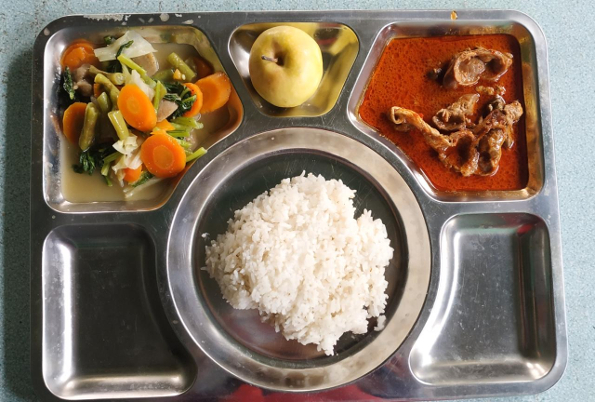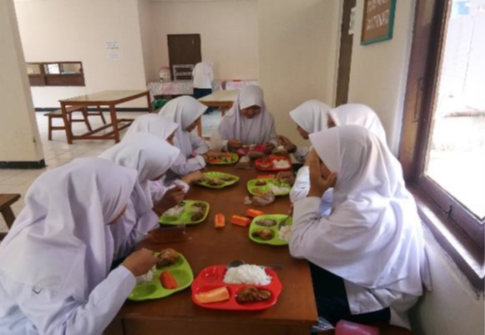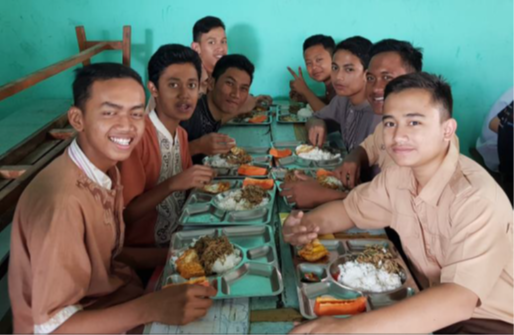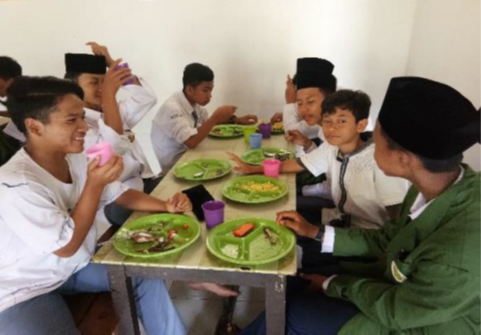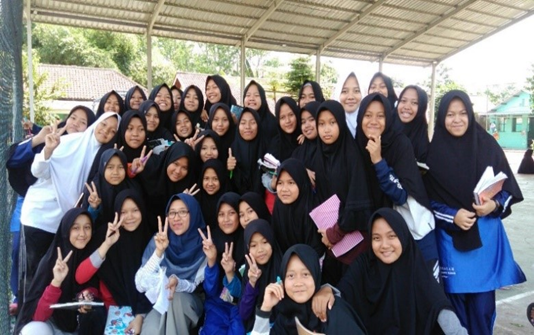 SLP 2020 - Making open SLP guide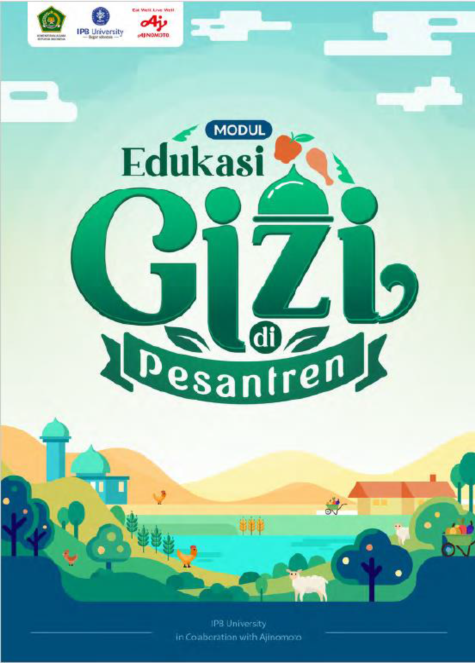 Nutrition Education Module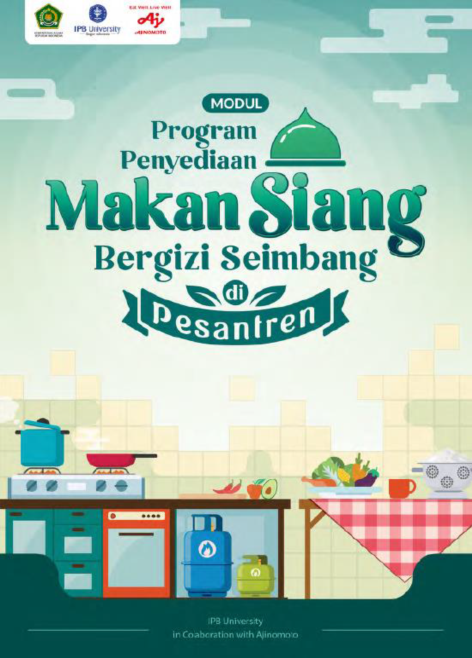 Lunch Preparation Module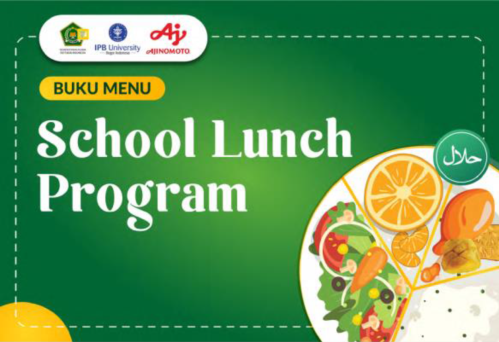 Menu book / recipe collection
SLP FY2021 – Year of Expansion
General activities:
Socialization of the SLP Guidebook to Islamic Boarding Schools - supported by the Ministry of Religion of the Republic of Indonesia & expansion of the application of SLP to Islamic boarding schools on the island of Java, by:
Organizing webinars to socialize the success of SLP to Islamic boarding schools in West Java and East Java.
Recruiting prospective schools who will be provided with assistance in SLP activities.
Outreach results:
Of the 53 Islamic boarding schools that registered for the application of SLP, 6 Islamic boarding schools were selected which this year will receive intensive guidance from the SLP team until March 2022, it is hoped that after the guidance period is complete, SLP can be applied independently in these Islamic boarding schools and all students can feel the benefits:
6 selected schools:
Nurhasanat – Karawang
Daarul Ulum – Majalengka
Al Hamidiyah – Depok
Miftahul Huda Al Azhar - Banjar
Addin As Shiddieq – Pacitan
Al Khusyu - Blitar
Activity Results Resume
The Director of Early Education and Islamic Boarding Schools – Ministry of Religion, Dr Waryono Abdul Ghafur, S Ag, M.Ag welcomed the SLP program. Islamic Boarding Schools must already know about the halalness and halalness of a food, but what needs to be deepened is to manage halal food that is more nutritious. In addition, in the future they also need to strengthen in terms of food technology, not only providing knowledge or cooking assistance.
The explanation from the SLP team and sharing experiences from 2 Islamic Boarding Schools that have participated in the SLP Program can convince participants and provide a clear picture of the benefits of implementing SLP in Islamic Boarding Schools which significantly encourage positive changes in eating habits, knowledge, attitudes and practices of health and nutrition, fitness level, instantaneous memory, nutritional intake and anemia status.
As output, there are 53 Islamic boarding schools that are interested in participating in the SLP Mentoring Program (22 from West Java and 31 from East Java)
The results of the continued selection by the SLP team, 6 schools were selected to participate in the SLP mentoring program, which will undergo a series of programs as follows:
Intensive assistance 6 weeks Oct – Nov 2021
Implementation and self-monitoring 3 months Dec – Feb 2022
Evaluation March 2022
Conclusion:
SLP provides dietary and educational interventions using our products. It is an integrated program that aims to increase children's knowledge, attitudes and practices regarding balanced nutrition and clean and healthy living behavior, nutritional intake and anemia status.
2. Winning Meal Project (Victory Project®) in Indonesia
After being successful in Japan, Victory Project®️ which is a program of Ajinomoto Co., Inc., Japan to support Japan's top athletes, is now present in Indonesia under the name "Winning Meal Project".
Ajinomoto Indonesia is committed to sharing experiences with the community that food is one of the important keys to realizing a healthy lifestyle. Kachimeshi which means "Winning Meal" or "Food of Champions" is actually a program that supports athletes and sports enthusiasts with delicious and nutritionally balanced meals to get maximum body performance.
In the first Winning Meals Project, PT Ajinomoto Indonesia appointed national swimming athlete I Gede Siman Sudartawa as the recipient of the program. It is hoped that the Winning Meal Project can bring Indonesian athletes to excel in international competitions such as the 2022 SEA Games.
Check out more information about the Winning Meal Project or Kachimeshi, from lifestyle to menu references for athletes here