Jakarta - After launching the first soy sauce-fried rice seasoning variant in Indonesia on April 2020, now Sajiku® bumbu praktis from PT AJINOMOTO INDONESIA is back with innovation by launching new variant, Sajiku® Bumbu Tahu & Tempe Goreng.
The objective of launch this new variant is to contribute to Indonesian food, delicacy, and wellness of Indonesian people during the Covid-19 pandemic. By launching a new variant of Sajiku® Bumbu Tahu & Tempe Goreng, PT AJINOMOTO INDONESIA hopes to provide a new way to enjoy delicious nutritious tofu and fried tempeh, a source of protein, with reasonable price.
Sajiku® Bumbu Praktis Tahu & Tempe Goreng is the right combination of quality spices, garlic, and coriander to make delicious and economical tahu & tempe goreng.
"Tempe goreng is the food with the highest cooking frequency in Indonesia, so we hope that this new Sajiku® bumbu praktis can help Indonesian people cook delicious and practical tempe and tahu, without the addition of other spices," said by Endang Pamularsih, Brand Manager Sajiku® - AJINOMOTO SALES INDONESIA.
"During the pandemic era, the lifestyle of consumers in Indonesia has changed to become healthier. But on the other hand, the income of majority people is also become less as a result of this. So it is expected that very affordable prices from the tahu and tempe goreng menu will be very helpful to meet the nutritional (protein) needs of consumers during pandemic period," she added.
For mothers and Indonesians who can't wait to try Sajiku® bumbu praktis Tahu & Tempe Goreng, our products already can be found in traditional markets, nearby supermarkets, and Ajinomoto Official Store e-commerce on Tokopedia and Shopee, with affordable prices (Rp. 1,000 / pack).
About PT AJINOMOTO INDONESIA
PT AJINOMOTO INDONESIA is a leading food seasoning producer that has colored the lives of Indonesians with high quality products and brings delicacy in every consumer's dish. With its global slogan "Eat Well, Live Well", at the age of 51, PT AJINOMOTO INDONESIA has made extraordinary achievements that mark the strength and resilience of a company that can make a major contribution to Indonesian society.
Detail produk :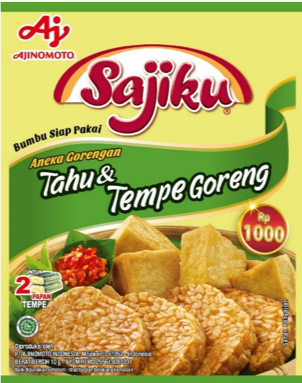 | | |
| --- | --- |
| ITEM | KETERANGAN |
| 1. Brand | Sajiku® |
| 2. Varian | Bumbu Praktis Siap Pakai Tahu & Tempe Goreng |
| 3. Isi Bersih | 10 Gram |
| 4. Dimensi Produk (Packaging) | 95 x 120 mm |
| 5. Rilis | Desember 2020 |
Related Articles