Artikel
Ajinomoto Indonesia Media Appreciation Day, Appreciation for Media at the Beginning of the Year
Jakarta, February 15th, 2022 - Entering the age of more than half a century, PT AJINOMOTO INDONESIA (Ajinomoto) strengthened its commitment to assisting the Indonesian people in providing the best by continuing to adhere to the Ajinomoto Shared Value (ASV) which focuses on the pillars: health and wellbeing , food resources, and global sustainability. Through his global slogan "Eat Well, Live Well", Ajinomoto continues to make a major contribution in improving the quality of life of the Indonesian people as well as moving towards a sustainable business that is environmentally friendly. Ajinomoto's contributions and achievements so far cannot be separated from the support and good cooperation with the media. As an expression of gratitude and an opportunity to meet and greet personally, Ajinomoto invited several media to attend the "Ajinomoto Indonesia Media Appreciation Day" event.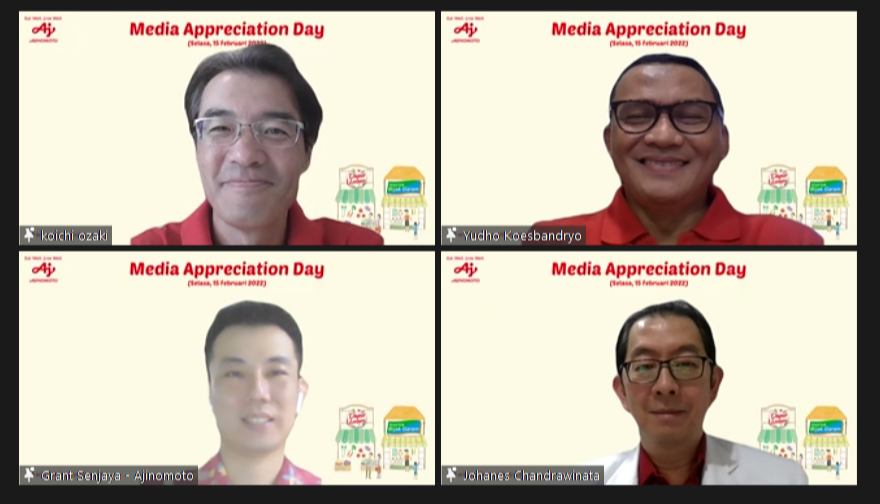 Grant Senjaya, Head of Public Relations Department PT AJINOMOTO INDONESIA explained, "This is the first time we invite media to meet and greet in 2022. Today activity is an appreciation from Ajinomoto to media who always support us until now. We hope that in 2022 and in the years to come, good relations, cooperation and collaboration between Ajinomoto and media partners can continue, so that the relationship between Ajinomoto and the media will become even more solid."
This engaging event also filled with presentations from Yudho Koesbandryo as Director of PT AJINOMOTO INDONESIA who present about achievements and various initiatives of Ajinomoto during 2021. During 2021, Ajinomoto has made several achievements such as the Halal Assurance System (HAS) Award 2021 organized by the Food Research Institute, Medicines, and Cosmetics the Indonesian Ulema Council (LPPOM MUI) as well as the Corporate Achievement on Halal Innovation Award category at the 2021 Indonesia Halal Industry Awards (IHYA) held by the Ministry of Industry (Kemenperin).
The Ajinomoto Media Appreciation Day was also filled with presentations on the importance of dietary salt for health brought by a dietitian and clinical nutrition expert, dr. Johanes Casay Chandrawinata, Sp.GK, MND. "Many Indonesian people like salty and savory foods. However, eating foods that contain too much salt can lead to health problems, such as obesity, diabetes, hypertension, stomach cancer, kidney stones, and stroke. Therefore, to maintain a healthy lifestyle, limiting salt intake is as important as eating fruits and vegetables," said dr. Johanes.
Ajinomoto believes that healthy food should also be also a tasty food. Therefore, at this event Ajinomoto also introduced the "Bijak Garam" program. This program is a solution to reduce the use of salt in every dish while maintaining a balanced taste. The importance of being wise in salt intake was informed by Ajinomoto through several initiatives, such as health webinars about the importance of a salt diet for public presented by experts in health and nutrition, education through mass media and providing information on salt wise activities on www.dapurumami.com/page/bijak-garam.
In addition to inform about the importance of a salt diet, the page also provides tips on how to make low-salt dishes to keep them delicious and nutritious. This page also provides a "Tanya Nutri Expert" rubric so that people can find out nutritional information directly from the experts, as well as the "Umami Journal" rubric which is an interactive tool for sharing tips, culinary info, and various recipes. It's time to take care of your and your loved one health, through the #bijakgaram movement.
***
About PT AJINOMOTO INDONESIA
PT AJINOMOTO INDONESIA is a leading producer of food seasonings that has colored the lives of Indonesian people with high-quality products and presenting delicacy in every consumer's cuisine. With its global slogan 'Eat Well, Live Well', at the age of 52, PT AJINOMOTO INDONESIA has scored extraordinary achievements that signify the strength and resilience of a company that can make a major contribution to the people of Indonesia.
Related Articles