Artikel
Happy Elderly Day! Help Seniors Improve Quality of Life with Glutamate Amino Acid in Umami Seasoning
Jakarta, May 31st 2022 - Glutamic acids contained in umami seasoning such as monosodium glutamate (MSG) turns out have benefit that are very influential to increase appetite in the elderly, so that it also helps in fulfilling good nutritional intake, that have results in improving physical conditions and quality of life of the elderly, which is measured by the results of blood analysis and anthropometry test in the study of 'Elderly Project'.
PT AJINOMOTO INDONESIA (Ajinomoto) in collaboration with Gadjah Mada University (UGM) conducted a study called Elderly Project that were head by Dr. Toto Sudargo M.Kes, a lecturer at the nutrition department of UGM, with the aim of finding out whether the provision of food programs with high content of protein, energy, vitamins, and minerals but low in salt, sugar, and fat, can improve the nutritional status of the elderly which results in improving the quality of life. This study period was carried out in October 2021 - January 2022, with purposive sampling method, and the research location was at the Tresna Werdha Nursing Home (BPSTW) Unit Abiyoso and Budi Luhur, Yogyakarta. The selection of research locations based on predetermined criteria is the nursing home has never received a similar intervention, willing to be a place of research, and has a kitchen that is able to hold food that is carried out independently.
According to Dr. Toto, basically the hormones regulating appetite in the elderly tends to have decreased. This has the potential to cause the elderly to experience malnutrition. Malnutrition shows the adverse effects that can be experienced on most elderly, for example weakness and muscle disorders.
"The Study of Elderly Project that we did with Ajinomoto, located at the BPSTW Unit Abiyoso and Budi Luhur, Yogyakarta during October 2021 - January 2022, showed that after being given a menu program to the elderly, there was a significant decrease in blood sugar levels. This is indicated by the percentage of the elderly male who has a HbA1C value in the diabetic group of 52.9% to 23.5% and an increase in normal groups with a percentage of 14.7% to 47.1%. Nutritional education about the importance of maintaining a diet such as reducing sweet foods can significantly reduce blood sugar levels. The significance of an increase in protein intake occurs in both groups, the elderly male and female," said Dr. Toto.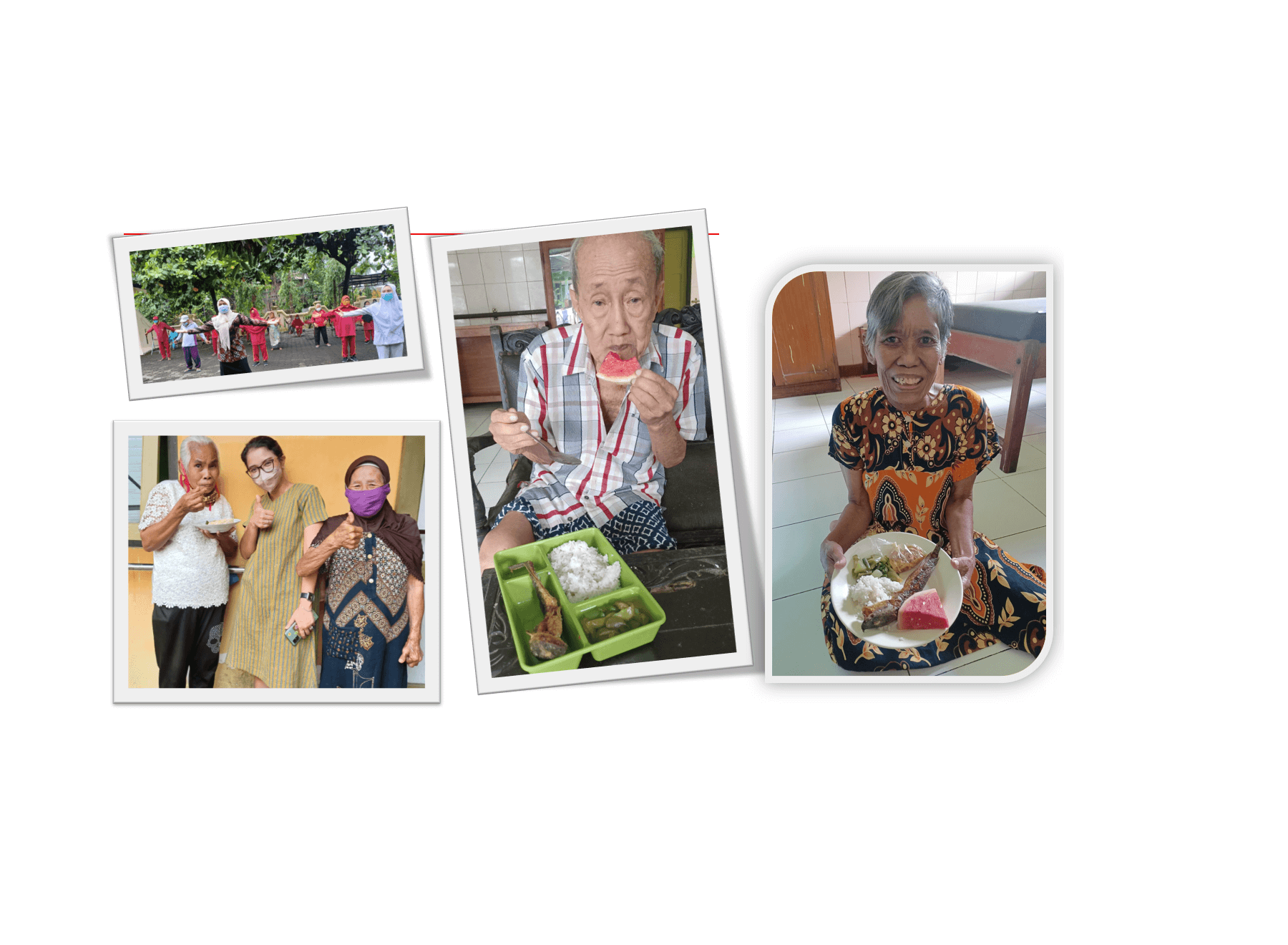 "Based on the results of the study also showed that the low salt menu in our feeding program was proven to reduce blood pressure in the elderly, namely SBP (Systemic Blood Pressure) and DPB (Diastolic Blood Pressure). The decline in sodium occurred because kitchen staff at the BPSTW Unit Abiyoso and Budi Luhur have been given education about the decline in salt use and replaced with AJI-NO-MOTO® products. The use of salt in the Abiyoso and Budi Luhur BPSTW unit that has been revealed does not make the appetite of the elderly decrease, it can be concluded that the taste of food still feels good even though it does not contain as much salt as before," he continued.
According to Dr. Toto, the appetite of the elderly actually tends to be low due to various physiological and psychological factors, but can actually be overcome by increasing the flavor receptors that are owned through basic flavor adjustment (sweet, acid, bitter, salty, and umami).
"Through the study of Elderly Projects that we do with UGM, we want to provide better understanding to the wider community, that even in the age of elderly we can continue to improve the quality of life and healthy life expectancy, by maintaining a balanced nutritious food and also reduce the intake of sugar, salt, and fat," said Grant Senjaya, Head of Public Relations Department - PT AJINOMOTO INDONESIA.
"At Ajinomoto we also have a Smart Salt campaign. Through the Smart Salt campaign, Ajinomoto wants to educate the public about the importance of a low-salt diet and invite Indonesian families to adopt a healthier lifestyle by reducing the intake or use of salt in food processing (cooking), but still being able to get a high taste. This campaign is also a testament to our commitment to continue to make a positive contribution to society, by improving the welfare and health of Indonesian families through high quality products and services. To see the details of the Smart Salt menu, you can access our Dapur Umami website: https://www.dapurumami.com/page/bijak-garam ," Grant close his statement.
PT AJINOMOTO INDONESIA Group is committed to continue creating a positive contribution to society, by improving the welfare and health of Indonesian families through high quality products and services that focus on deliciousness and health.
Related Articles