Artikel
PT AJINOMOTO INDONESIA Launches New Product "PILIPLUS" For Best Solution and Benefits to Food Industry Customers
Jakarta - PT AJINOMOTO INDONESIA has launched a product variant for the Industrial category, namely "PILIPLUS", to fulfill the needs of food industry market in Indonesia It is the latest innovation that can enhance and provide a longer lasting spicy taste in various processed foods, and at the same time enables steady supply and quality of chili flavor at a stable price, the best solutions and benefits to customers.
"PILIPLUS" is successfully made from unique and special ingredients and technology from Ajinomoto Co., Inc. (Japan). And also complemented by a perfect blend of spices such as: red onion, garlic, white onion, salt, sugar, flavor enhancers, et cetera.
"PILIPLUS" will not only pamper the tongue of spicy lovers in Indonesia, but also provide many benefits by increasing the spicy flavor, lowering production costs, reducing the use of fresh chili by up to 30 percent, improving quality, sustaining the balance of spicy flavors and maintaining the price stability.
"From year to year, the market for chili or chili sauce producers in Indonesia is quite large, however the price, supply and quality of fresh chili is very unstable, so that producers of chili sauce, chili sauce, and other spicy food products containing chili are quite affected in terms of their advantages. This is what underlies us in launching the "PILIPLUS" product," said by Toni Iskandar, Brand Manager Industry Dept. – PT AJINOMOTO INDONESIA.
"Seeing the existing potential, the ability of our sales team, and good distribution channels, we provide the best innovations and solutions for the food industry market in Indonesia by commence "PILIPLUS" as a spicy enhancer seasoning," he added.
According to Toni, the launch of the "PILIPLUS" product is also one of the ASV (The Ajinomoto Group Creating Shared Value) activities of the company group, for contribute to the effective use of food resources in Indonesia.
Through ASV, PT AJINOMOTO INDONESIA will solve social problems that lead to economic value through its business activities, and will continue these initiatives in line with the company's business growth.
For every producers of processed chili, chili sauce, and other spicy food products containing chili, who wants to buy "PILIPLUS" products, now available at our official distributors of PT AJINOMOTO SALES INDONESIA / SHI (suppliers for home industry), or you can contact Ajinomoto Customer Care (https://www.ajinomoto.co.id/id) to be connected with our Sales / Industry Consultant Team.
About PT AJINOMOTO INDONESIA
PT AJINOMOTO INDONESIA is a leading food seasoning producer that has colored the lives of Indonesians with high quality products and brings delicacy in every consumer's dish. With its global slogan "Eat Well, Live Well", at the age of 51, PT AJINOMOTO INDONESIA has made extraordinary achievements that mark the strength and resilience of a company that can make a major contribution to Indonesian society.
Detail Produk :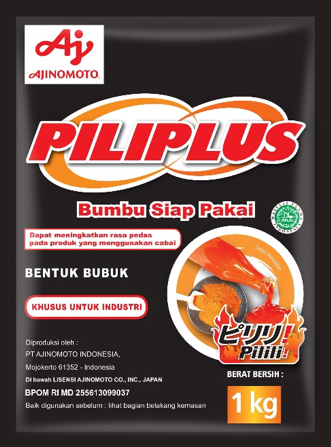 | | |
| --- | --- |
| ITEM | KETERANGAN |
| 1. Brand Product | "PILIPLUS" |
| | 1 Kilogram |
| 3. Product Dimension (Packaging) | 200 x 270 mm |
| 4. Release | March 2021 |
Related Articles