PT AJINOMOTO INDONESIA (Ajinomoto) consistently ensures all of its product lines to obtain halal certification. Not only that, Ajinomoto also consistently implements the Halal Assurance System (SJH) in all of its factories in carrying out the production process. With this commitment and consistency, one of brands owned by Ajinomoto Indonesia, namely Masako® won the Favorite Halal Brand award (Category: Seasonings, Flavors and Food Additives) in the 2023 Halal Award organized by LPPOM MUI.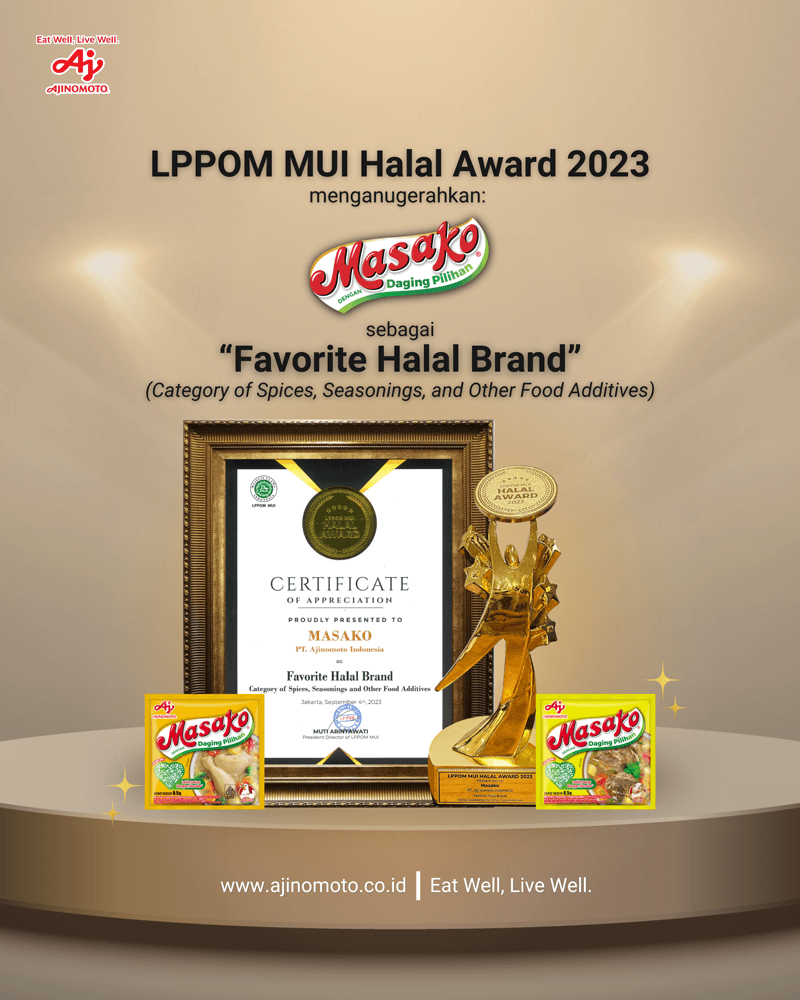 "We gratefully accept this award as a form of appreciation, that we are able to build trust with our customers. The efforts we have made so far are a form of the company's commitment to providing delicious, high-quality, and consumer-trusted products. This award is very meaningful for the progress of our Halal Management and provides motivation and pride for the company to continue to meet the needs and expectations of the community as our top priority," said Ir. Hermawan Prajudi, Director of PT AJINOMOTO INDONESIA.
"Furthermore, we will continue to innovate continuously while complying with other regulations set by the regulators so that the implementation of halal guarantees in the future is maintained in order to provide good products for all families in Indonesia," he continued.
The Halal Award by LPPOM MUI is held in order to give awards to partner business actors of LPPOM MUI who already have halal certificates and increase their confidence so they can compete in national and international markets.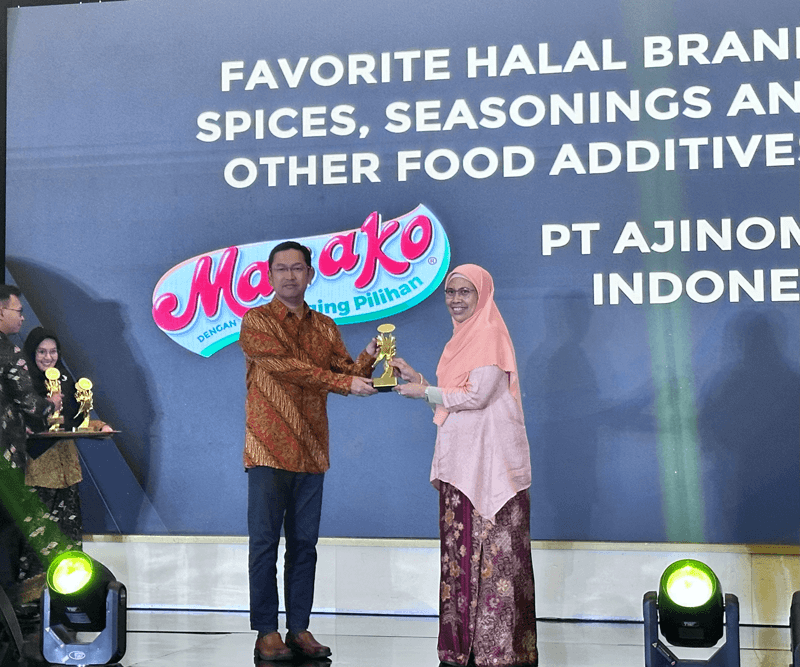 (Mr. Fumihiro Kobayashi – Vice President of PT AJINOMOTO INDONESIA
received the trophy from Mrs. Ir. Muti Arintawati,M.Si – President of LPPOM MUI)
On this occasion, Director of LPPOM MUI, Ir. Muti Arintawati, M.Si requested that all companies that received the award be able to maintain product quality according to the standards provided by LPPOM MUI.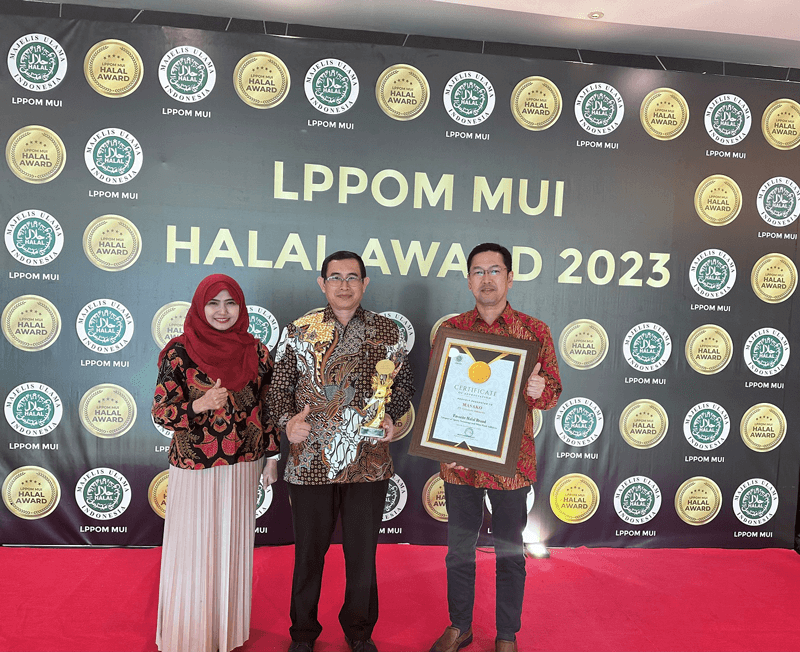 "Companies that receive the LPPOM MUI Halal Award 2023 are expected to continue to maintain halal guarantees, so they can provide quality halal products in a sustainable manner," said Ir. Muti Arintawati, M.Si opened the 2023 LPPOM MUI Halal Award at the IPB International Convention Center, Bogor (04/09 /2023).
In this year's LPPOM MUI Halal Award there are 7 nomination categories, namely: (Best Halal System Implementation; Best Newcomers; Long Life Achievement; Fastest Growth on Halal Product; Favorite Halal Brand; Best Social Contribution on Halal Ecosystem; The Promising Halal SME). Specifically for the Favorite Halal Brand category, the winner is determined by the results of public voting.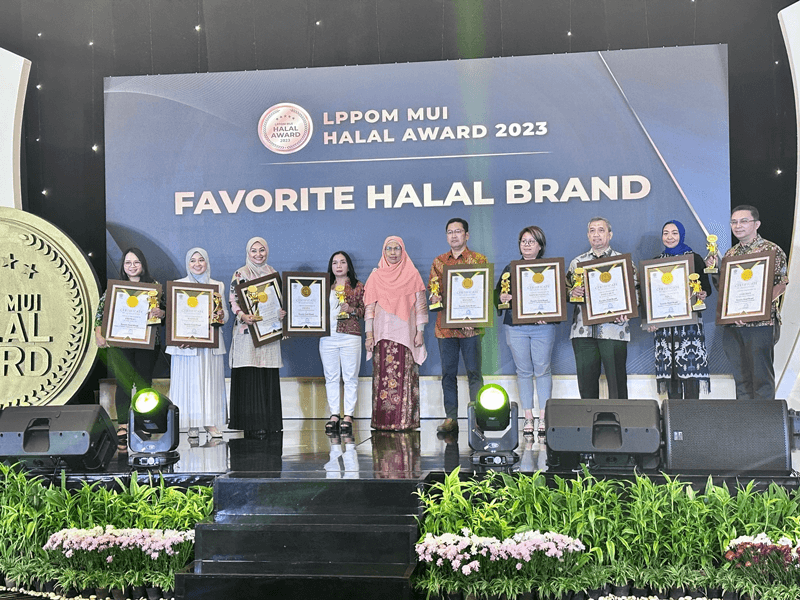 The series of activities for the LPPOM MUI Halal Award 2023 have been held since June 12 2023, namely the kick off Halal Award as well as a webinar related to updating information on halal certification in the post-pandemic era for LPPOM MUI partners. Then launching the Halal Award to the public, on July 29 2023, as well as opening category 5 voting for Favorite Halal Brand. Voting for Favorite Halal Brand itself starts from 29 July to 14 August 2023.
On July 29, 2023, LPPOM MUI reminded partner companies to submit requirements in category 6, namely Best Social Contribution for Halal Ecosystem. Then the awarding event on September 4, 2023, which is the announcement of the winners for all Halal Award categories which also commemorates National Customer Day.
Related Articles