Artikel
The Role of Umami in Watching Out for Excess Salt Intake for a Healthier Life
Jakarta, July 5, 2022 - It is undeniable, sodium has an important role in the body needs as an essential nutrient to create a healthy, strong, and active lifestyle. Excess or deficiency of sodium is at risk of being a health problem. Excess sodium can lead to various degenerative diseases such as hypertension, stroke, heart failure, diabetes, and others. If there is a deficiency, then the effects are impaired muscle and nerve function, impaired blood sugar control, impaired control of body fluids, and impaired absorption of nutrients. So, how should you balance and control your salt intake?
PT AJINOMOTO INDONESIA (Ajinomoto) held a Webinar: "The Role of Umami in Watching Out for Excess Salt Intake for a Healthier Life", as an effort to support Indonesian people to stay healthy by disseminating informative facts about Umami Seasoning such as Monosodium Glutamate (MSG).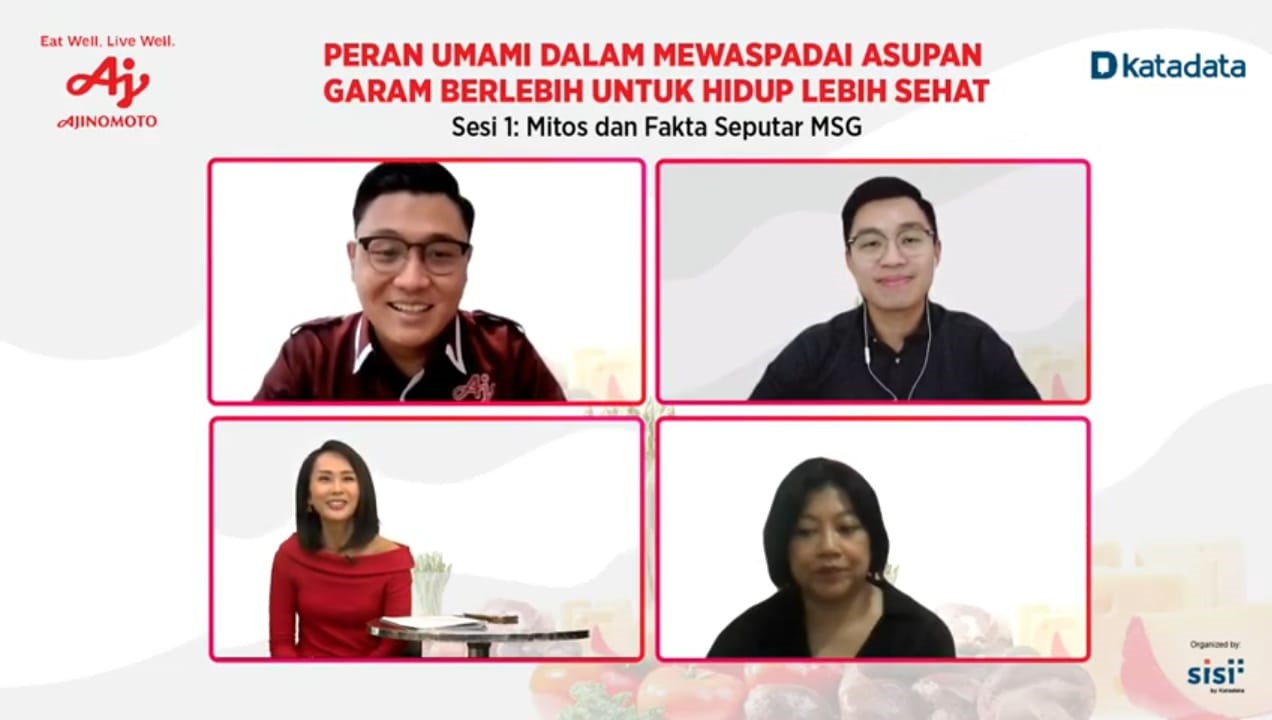 This webinar presents dr. Kevin Mak (Medical Doctor & Health Content Creator) as resource person. According to him, salt is actually important for the body. Our bodies still need salt every day. However, if consumed in excess it can cause blockage of blood vessels, hypertension, and stroke.
It is undeniable, the habit of the Indonesian people in making food does use a lot of herbs and spices that have a high taste, while in various herbs and spices it also contains quite a lot of sodium (salt). Using a variety of spices and table salt is to only add a small amount of table salt, then add a little MSG.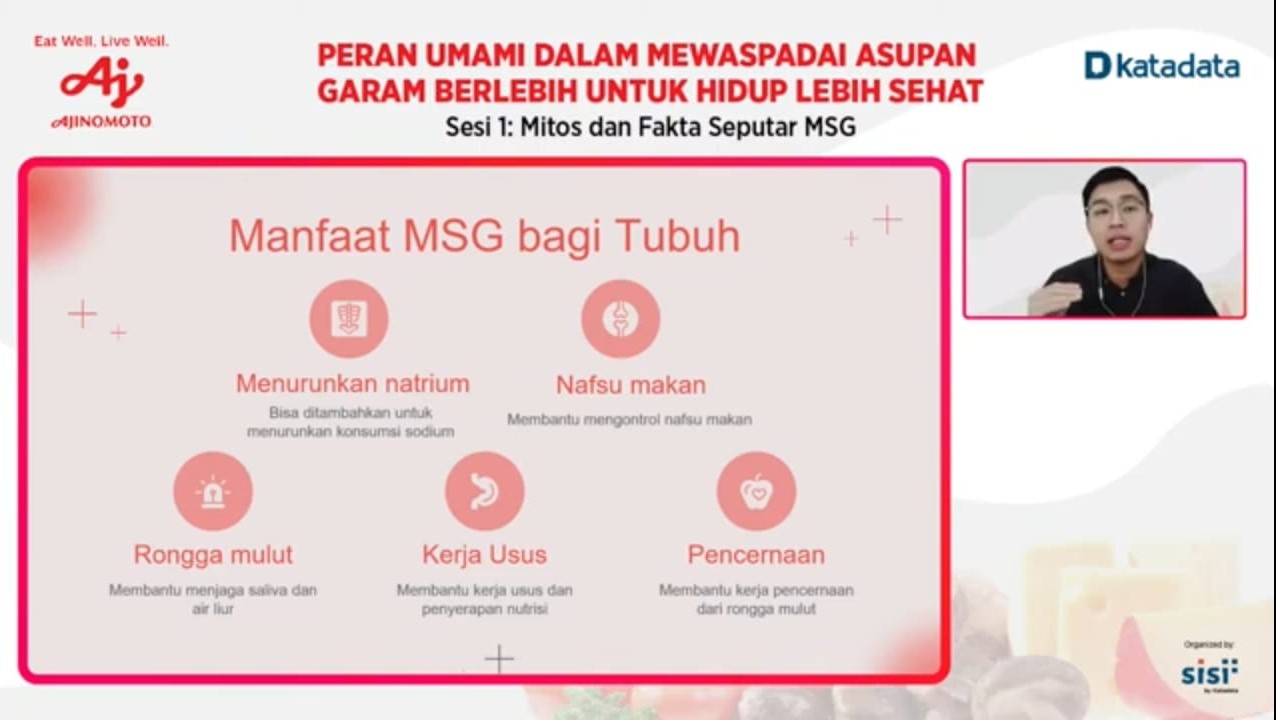 "If we want foods that we consume to have a high taste, but also want a low-salt diet, using Umami Seasoning such as MSG can be a solution. Because, the sodium content in MSG is only 1/3 of the sodium content in ordinary table salt. Research conducted by Maluly et al (2020) also states that reducing the use of table salt and adding a little MSG to food can reduce sodium levels by 37 percent," said dr. Kevin in delivering material at the webinar session.
Agree with dr. Kevin, Angga Putra - Public Relations Manager of PT AJINOMOTO INDONESIA, said that currently Ajinomoto is promoting the Smart Salt campaign which is in line with the recommendation of the Indonesian Ministry of Health regarding reducing the intake of Sugar, Salt, Fat (GGL) in daily consumption.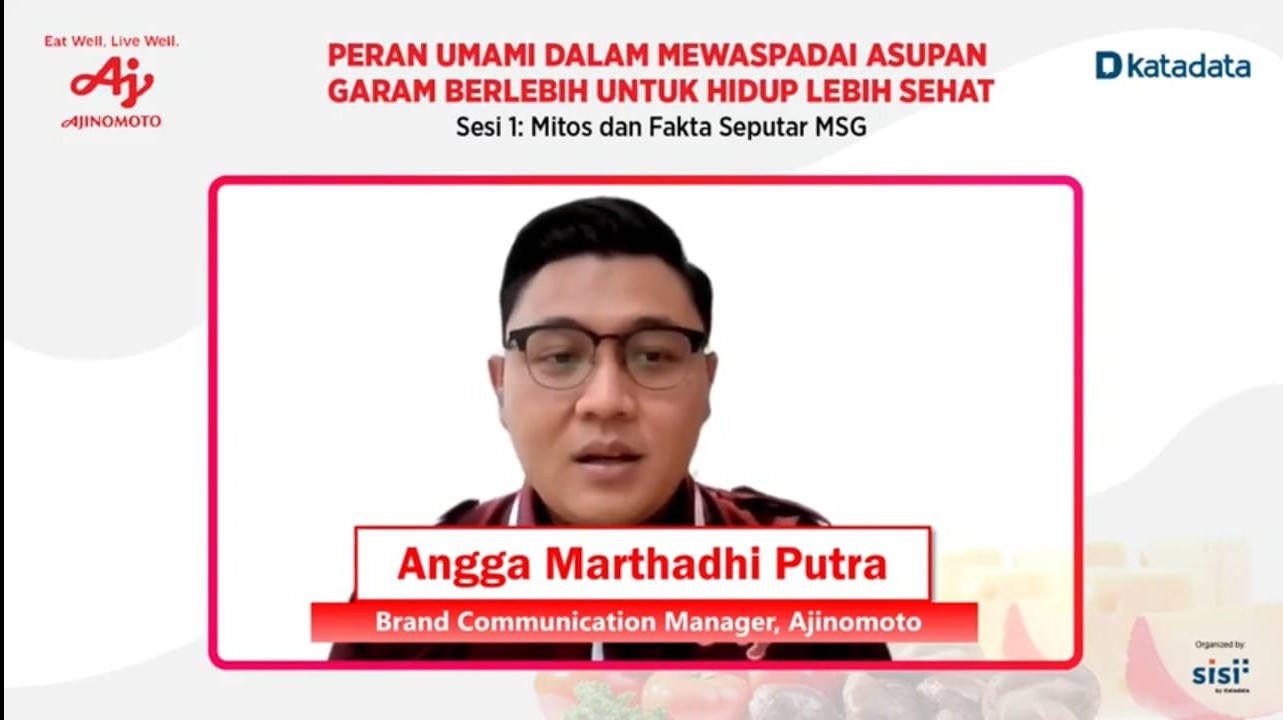 "Through the Smart Salt campaign, which we are running, Ajinomoto wants to educate the public about the importance of a low-salt diet and invite Indonesian families to live healthier lives by reducing the intake or use of salt in food processing, but still being able to get a high taste. This campaign is also a testament to our commitment to continue to make a positive contribution to society, by improving the welfare and health of Indonesian families through high quality products and services. To view the details of the Smart Salt menu, it can be accessed through our Dapur Umami website: https://www.dapurumami.com/page/bijak-garam ," said Angga.
PT AJINOMOTO INDONESIA is committed to continuing to make a positive contribution to society, by improving the welfare and health of Indonesian families through high quality products and services that focus on delicacy and health.

Related Articles