Artikel
Number 1 Sports Drink in Japan aminoVITAL® Now Available in Indonesia
Jakarta, March 24, 2022 – Since the start of COVID-19 pandemic, people have become increasingly aware of the importance of maintaining health and endurance. One way is by exercising. The question is, are we already exercising regularly and living a healthy lifestyle correctly? and whether our exercise is already effective to increase endurance?
A Challenge in Exercising
Regular exercise can increase endurance. Even during a pandemic like this with the rules to stay at home, the Centers for Disease Control and Prevention (CDC) and the World Health Organization (WHO), still encourage everyone to exercise regularly. In addition to improving mental health, a 2019 scientific review in the Journal of Sport and Health Science, found that exercise can improve immune response, lower disease risk, and reduce inflammation. However, after exercising (especially high-intensity exercise) usually pain will arise and discomfort (muscle soreness) also appears due to muscle tissue damage. Moreover, for sports enthusiasts and athletes, muscle soreness can last for some time. If not treated properly, this pain can interfere with exercise performance. For PT AJINOMOTO INDONESIA (Ajinomoto), which has always focused on improving the health and wellness of the Indonesian people, this is a challenge in responding to the desires of sport enthusiasts and athletes in maintaining sports performance. Armed with decades of research on food, nutrition and amino acids. Ajinomoto launched aminoVITAL®, the Number 1 Sports Drink in Japan which is now available in Indonesia.
Sports Drink No.1 in Japan
aminoVITAL® was originally developed to enhance the performance of Japanese athletes. aminoVITAL® is an apple flavored amino acid jelly drink which is the No.1 Sport Drink in Japan. in 1 package of 100gr (2 servings) made with 3,000 mg of amino acids and 1,640 mg of BCAAs (Leucine, Soleucine, Valin) and has been certified halal for athletes and sports enthusiasts. Good consumed 30 minutes before exercising or in the middle of exercising.
What are AMINO ACIDS?
In addition to water and fat, the human body also consists of protein. Protein is formed from 20 (twenty) types of Amino Acids, which consist of essential amino acids and non-essential amino acids. There are 9 (nine) essential amino acids in the body. All of these essential amino acids cannot be produced by the body naturally. That means, the body can only get this essential amino acid from the intake of food sources. Whereas body parts such as eyes, ears, hair, blood, hormones and even the body's immune system consist of this protein essence, namely Amino Acids. Ajinomoto Co., Inc. who has studied Amino Acids for more than a hundred years, has made it the basis for answering these needs through product development. Unlike protein, amino acids are the smallest components of protein and can be directly absorbed in the body within 30 minutes. Based on information obtained from the https://www.ajinomoto.com page, protein takes up to 3 to 4 hours to be digested and absorbed in the body. AminoVITAL® products are sports drinks that contain amino acids.
Exercising Feels Light
Take aminoVITAL® 30 minutes before exercising or in the middle of an intense workout to refresh the body properly. Consumption in a cold state will be fresher and more delicious.
aminoVITAL® for SEA Games 2021
For some people, sport is a competition. Beating one's own record, competing, and monitoring the progress of practice is one of its own satisfactions. aminoVITAL® is the complete companion for achievement chasers. One of them is Gede Siman Sudartawa, an Indonesian swimming athlete who has brought the nation's good name by winning gold and silver medals at several previous SEA Games. At the 2021 SEA Games, Siman's training and matches are supported by aminoVITAL®. Let's support the struggle of Siman and Indonesian athletes for the 20221 SEA Games.
#SiapBergerak with aminoVITAL®
Ajinomoto presents aminoVITAL® exclusively in the marketplace so that Indonesian consumers can easily place orders at any time. aminoVITAL®, the Number 1 Sports Drink in Japan, can be obtained at Ajinomoto Official Store Tokopedia, Shopee, Bukalapak, and Lazada. aminoVITAL® is available in apple flavor in a compact 100 gram pouch so you can take it anywhere. Let's take care of our health by exercising effectively and optimally, #SiapBergerak with aminoVITAL®.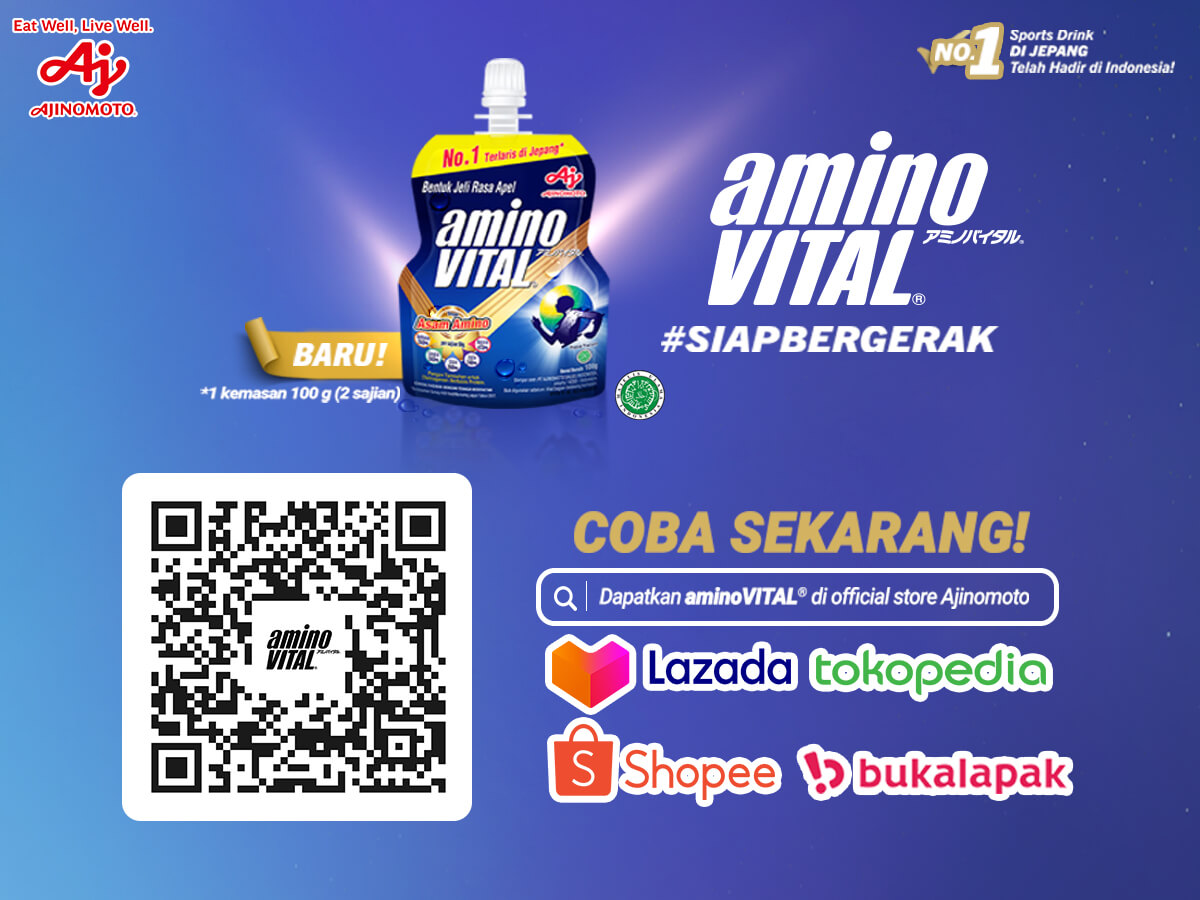 aminoVITAL® is now available on marketplace:
● Shopee
● Lazada
Related Articles