Jakarta, 20 February 2023 - The National Breakfast Week which is celebrated every year on 14-20 February is always used as a momentum to educate about the importance of breakfast to start daily activities. PT AJINOMOTO INDONESIA (Ajinomoto) as a leading seasoning company that pays attention to health issues and nutritional intake, this time also took part in educating the caretakers and children of the Nuruz Zaroh Orphanage and Jakarta Mother's Asylum Center about the importance of having a nutritious breakfast during Breakfast Week. National. In this year's National Breakfast Week, Ajinomoto made a breakfast donation in the form of a balanced nutritious menu consist of rice, Tumis Ayam Kecap Masako®, Tumis Sayur AJI-NO-MOTO®, fruit, milk and Masako® 40g products, for the Nuruz Zaroh & Suaka Orphanage Kasih Bunda, located in Jakarta & Tangerang.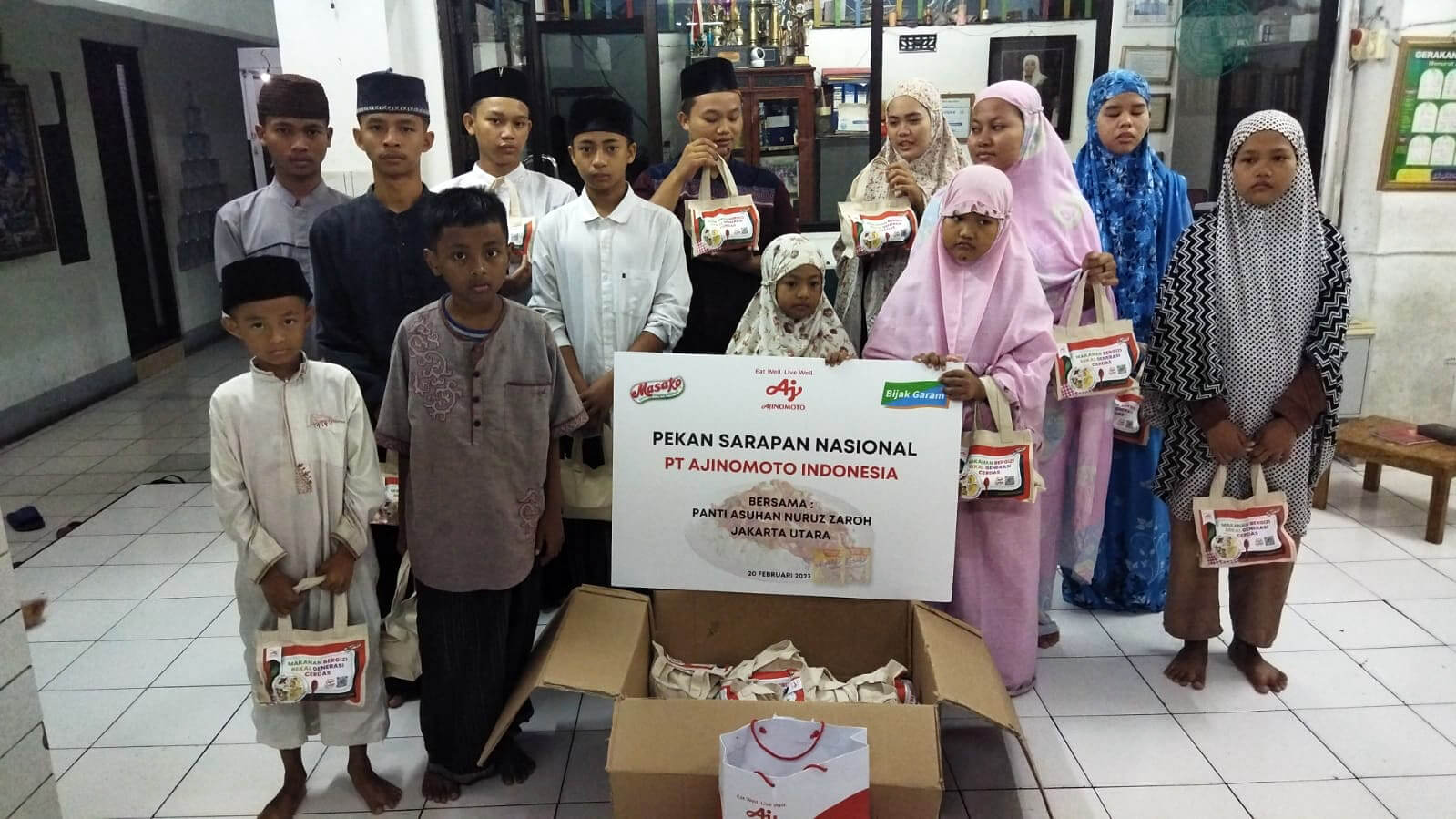 According to a Nutrition Lecturer at Esa Unggul University, Nazhif Gifari, S.Gz, MSi, breakfast is considered very important for children, because breakfast can provide the body with the nutrients it needs to be able to think, study and do physical activity optimally. our daily activities we must equip the body with the necessary nutrients such as protein, carbohydrates, fats, vitamins, and minerals, that's why breakfast is very important. If our children want their learning process to be full of concentration, they must always have breakfast in the morning," said Nazhif. "There are many benefits of breakfast, including preventing dehydration after fasting all night, stabilizing blood glucose, preventing hypoglycemia, preventing obesity, increasing cognitive function, and increasing enthusiasm for learning and activities in children," he continued. According to Nazhif, it is also important to pay attention to the balanced nutritional content in the breakfast menu. The breakfast menu must contain sufficient sources of energy and fiber, and it is also important to pay attention to recommendations from the Indonesian Ministry of Health (Kemenkes) regarding limiting intake of sugar, salt, fat (GGL), in order to avoid health problems such as degenerative diseases.
In his presentation, Nazhif Gifari, S.Gz, Msi also shared healthy breakfast tips that can be practiced daily:
Create a practical breakfast menu for 1 week
Prepare the ingredients for the breakfast menu at night
Make sure food ingredients contain balanced nutrients
Have breakfast together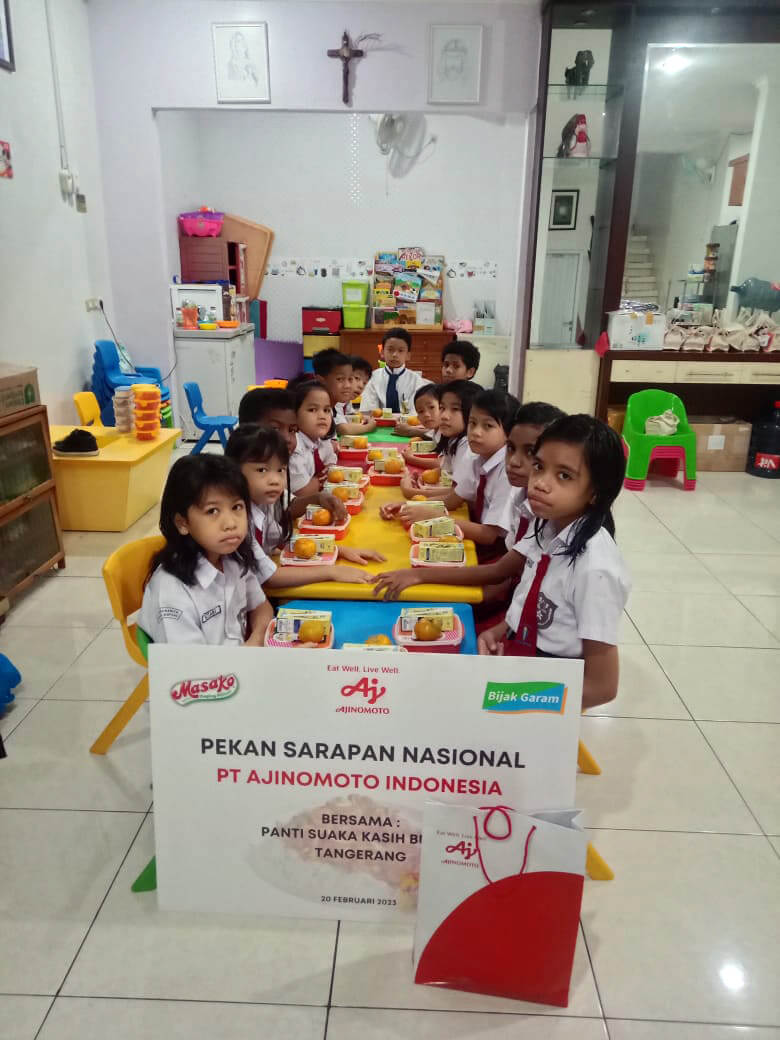 Grant Senjaya, Head of Public Relations Department of PT AJINOMOTO INDONESIA explained, "Based on data collected from various sources, the stunting rate in Indonesia in 2021 was recorded at 24.4 percent and until now - besides obesity, stunting is still one of the problems serious health in Indonesia. The risk of stunting can be prevented, one of which is through a nutritious breakfast. Breakfast is very important for the health of the body, especially for children – breakfast greatly influences their lifestyle and development. In this regard and in line with the momentum of today's National Breakfast Week (PESAN), we are holding this initiative to echo the importance of breakfast, especially for children through the distribution of nutritious breakfasts and a presentation on the importance of breakfast delivered by Mr. Nazif Ghifari, S.Gz, M.Sc as a nutritionist who is also a Lecturer in the Nutrition Study Program at Esa Unggul University. Today's program is also a manifestation of our commitment as Health Providers in helping to extend the healthy life expectancy of 1 billion people."
Towards 2030, Ajinomoto has two big goals, the first is to increase the quality and healthy life expectancy of Indonesian families and the second to reduce the environmental impact of the company's activities. To realize this commitment, the Ajinomoto Indonesia Group is also increasing the literacy and knowledge of all of its employees to serve as Health Providers. Health Providers consist of Health providers for Human Being and Health providers for The Earth, because the Ajinomoto Indonesia Group cares about improving the health of all people and the earth (environment). Ajinomoto hopes that the initiative carried out at the 2023 National Breakfast Week can inspire Indonesian children and their parents to be aware and aware of the importance of a healthy breakfast and adequate nutritional needs, so that children can grow healthy, happy and at the same time reduce stunting rates.
Related Articles