Jakarta, November 15, 2022 - PT AJINOMOTO INDONESIA (Ajinomoto) through the Horeka (Hotel, Restaurant, Catering) Department held a seminar with the theme "Modern Cooking" at Poltekpar NHI Bandung. The seminar, which was attended by students of Poltekpar NHI Bandung on November 11, 2022, is Ajinomoto's effort to support prospective chefs and culinary entrepreneurs in creating a variety of delicious and healthy food creations, but still being profitable, as well as providing informative facts and benefits of umami seasoning such as Monosodium Glutamate (MSG).
Present as one of the speakers, Katarina Larasati - Product and Nutrition Manager, PR Department PT AJINOMOTO INDONESIA. Katarina said it was important to prevent degenerative diseases such as diabetes, heart disease and hypertension by taking into account the recommendations from the Indonesian Ministry of Health (Kemenkes) regarding limiting sugar, salt and fat (GGL) intake.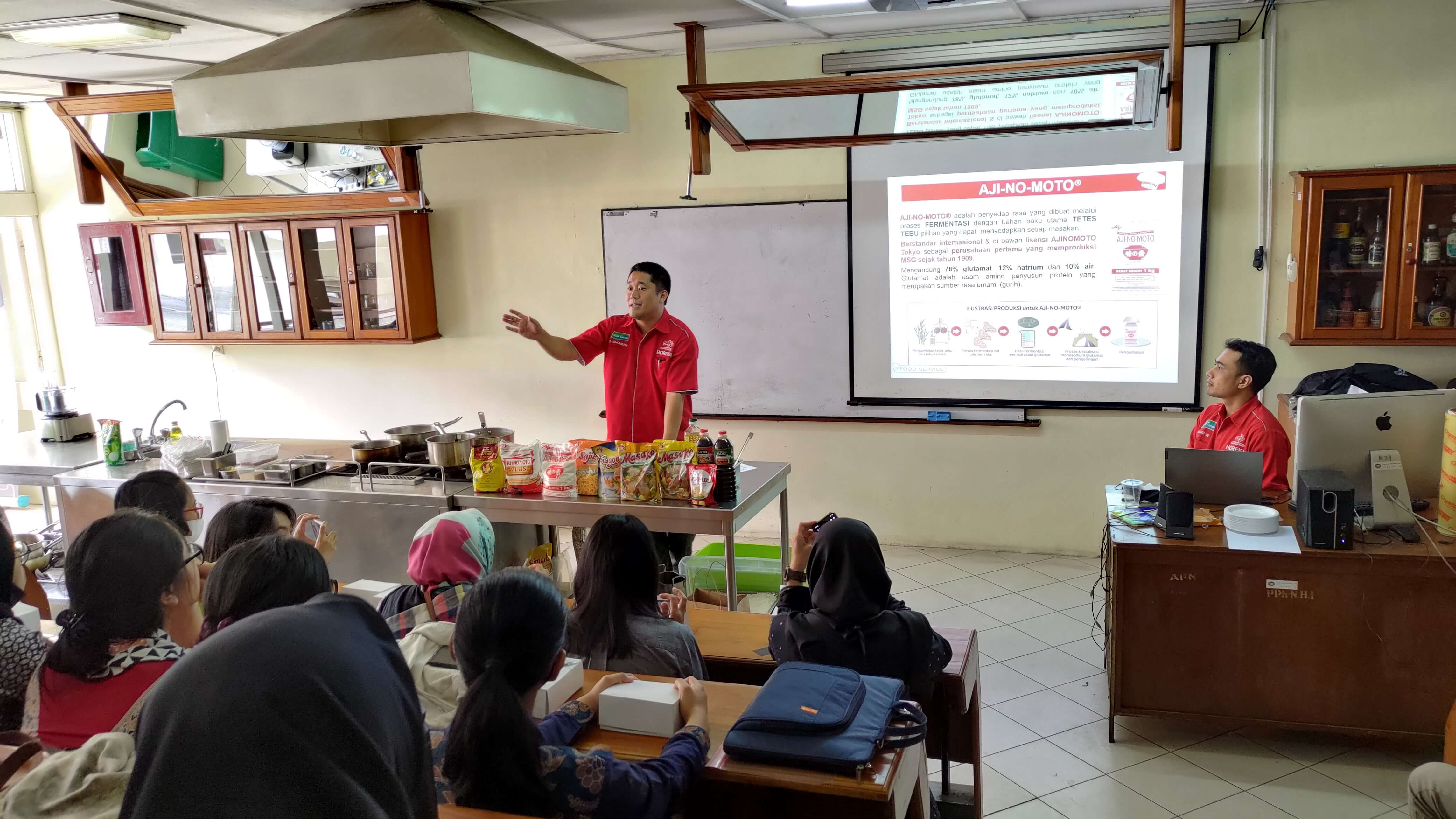 "Actually, if we want the food we eat to have a high taste and at the same time want a low-salt diet, using Umami Seasoning like MSG is the solution. Several studies such as that conducted by Jeremia Halim et al (2020) show that the use of MSG can be a low-salt diet strategy. Because, the sodium content in MSG is only one third (⅓) of the sodium content in ordinary table salt," said Katarina.
"So, as a determinant of future culinary trends, these aspiring chefs should have started considering the application of sugar, salt and fat limitation for culinary trends that are safer for health while maintaining the element of delicacy in the creation of their food menus," she continued.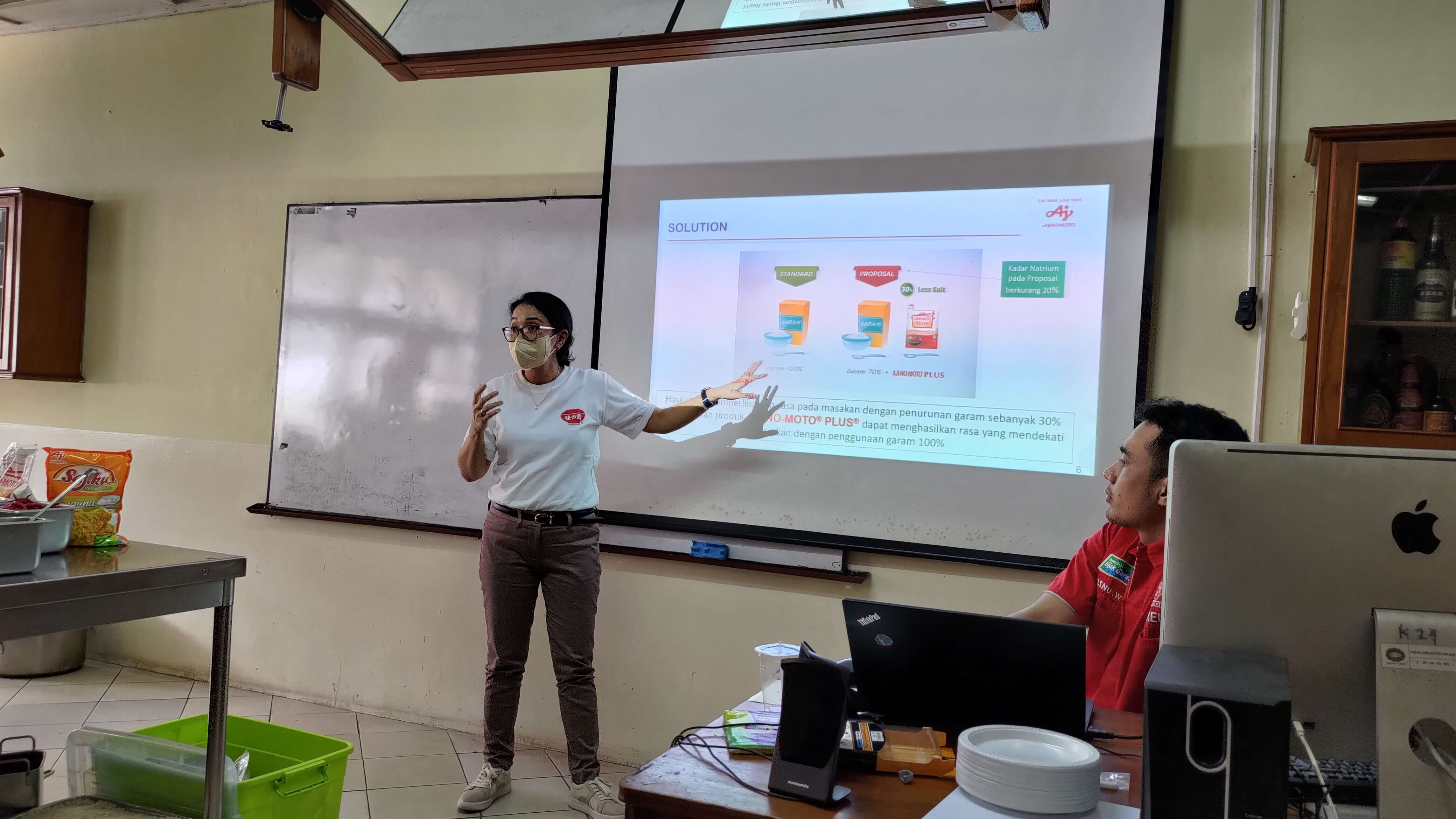 Katarina added that Ajinomoto is currently activating the Salt Wisdom campaign which is in line with the recommendations of the Indonesian Ministry of Health regarding reducing the intake of Sugar, Salt, Fat (GGL) in daily consumption.
"Through the Bijak Garam campaign, which is being activated, Ajinomoto wants to educate the public about the importance of a low-salt diet and invite Indonesian families to live healthier lives by reducing the intake or use of salt in food processing, but still being able to get a high taste. This campaign is also a testament to Ajinomoto's commitment to continue to make a positive contribution to society, by improving the welfare and health of Indonesian families through high quality products and services. To see the details of our Salt Wisdom menu, it can be accessed through the Dapur Umami website: https://www.dapurumami.com/page/bijak-garam," said Katarina.
In the next session, Horeka Dept. Ajinomoto also shared tips on creating food menus that still apply Smart Salt, balanced nutrition guidelines, and definitely delicious. These tips and materials are presented in the Horeka Product Knowledge information and the Tori no Suimono (Japanese Chicken Soup) menu taste test presented by Ryo Nakamura, Head of Horeka Dept. & Chef Wisnu Wicaksono, Corporate Chef Ajinomoto.
"In presenting the flavor test for this simple Tori no Suimono menu, we also include a protein source from chicken, and a fiber source from vegetables such as broccoli and carrots. We propose this taste test menu using the AJI-NO-MOTO® PLUS seasoning which can increase the level of savory and harmonize which is more delicious, compared to ordinary MSG and in the end is able to reduce 30% of the use of table salt, which is equivalent to a 12% decrease sodium on that flavor test food. With a more savory level, the use can be less, namely (¼) than ordinary MSG so that it is more cost-effective for production," said Chef Wisnu.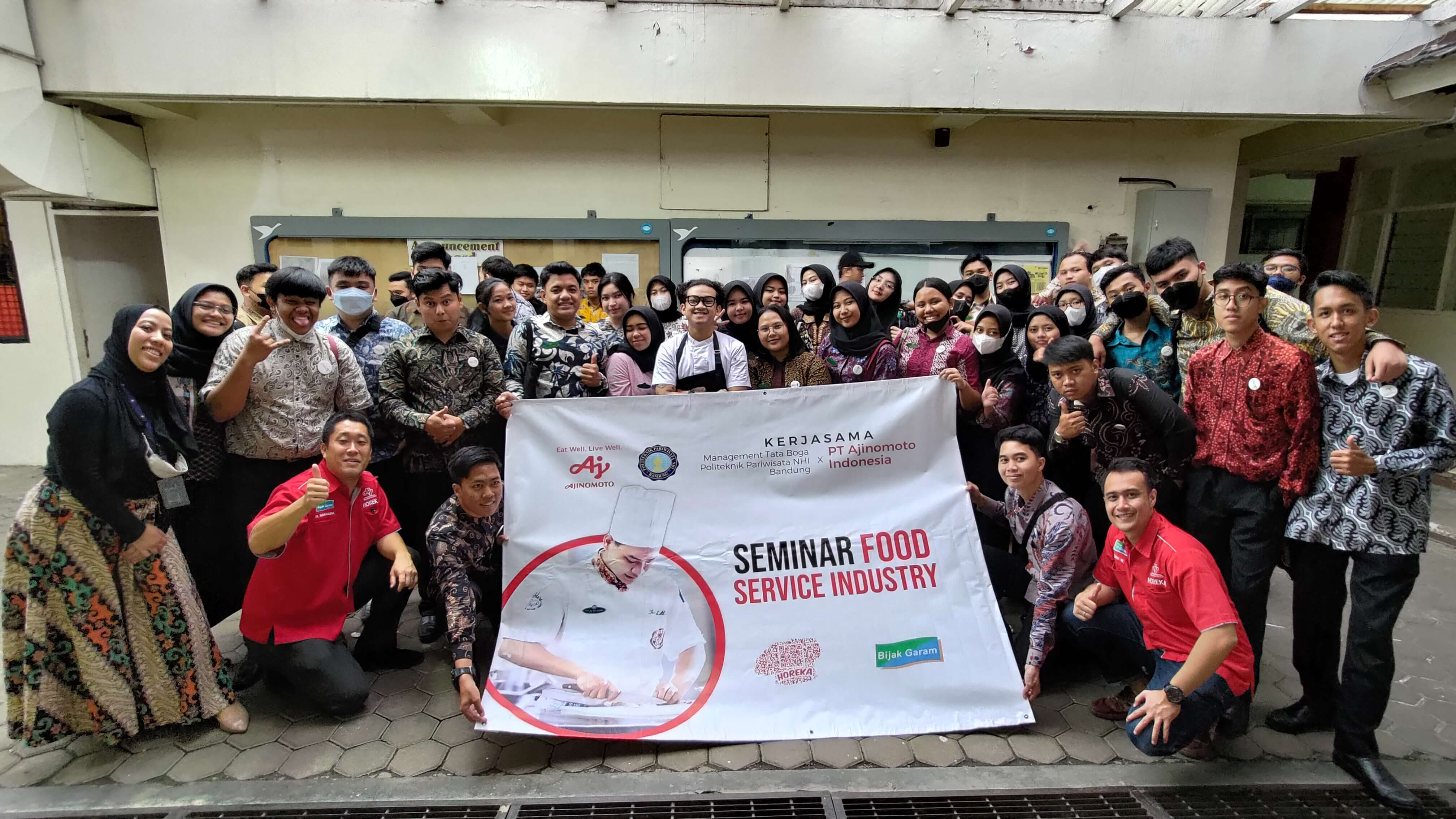 In this seminar, Ajinomoto also provide Horeka products such as AJI-NO-MOTO® PLUS, Chicken Extract Powder, and SAORI Oyster Sauce, for student practicum activities in the Catering Management Study Program, Poltekpar NHI Bandung for 6 months other than as a form of Ajinomoto's support for the world of Culinary Education in Indonesia is also to introduce the benefits of Ajinomoto's products from an early age. Ajinomoto also present guest lecture session by Chef Muhammad Aliyana, Chef De Partie from Botanica Dining Resto, Jakarta, and also alumni of Poltekpar NHI Bandung Class of 2012. Chef Aliyana presented the "Cumi Pekalongan" menu and taught several modern cooking techniques to NHI Bandung students to elevate traditional menus into fine dining. With this activity, Ajinomoto hopes to educate seminar participants about nutritional information with scientific facts, and contribute to making future chefs and culinary entrepreneurs not only concerned with the taste and quality of food, but also more aware of and care about health.
Related Articles